Michael Alvin Penn, 46, is the son of the late industrial artist and photographer, Alvin Penn.
He has lived in the "Art Gallery District" of Old City Philadelphia, Pennsylvania with his wife and their two adopted cats since 1994.
After his first solo photo exhibition at Silicon Gallery in Philadelphia, Michael launched his new career by shooting contemporary and classic architecture in and around Philadelphia. It was during this time, his Benjamin Franklin Bridge Portfolio was gaining National and Global recognition.
Since that first solo show, Michael has gone on to exhibit in nine group shows from Manhattan to Santiago Chile and his work was purchased for the permanent collections of The Wharton Business School in Philadelphia, PA and The Philadelphia Eagles Football Organization.
Michael's growing interest in the photography of W. Eugene Smith, William Klein, and Takuma Nakahira slightly altered his views about his own work. It was the 2009 lecture and meeting of Daido Moriyama that was the catalyst for a change in his photographic gears.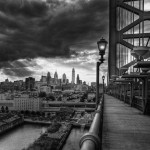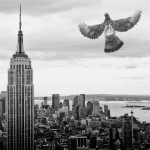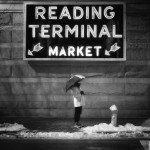 The shooting and archival printing of 1000 10" x 15" photographs shot over the course of three years, known as "The Philadelphia Project", allowed a smooth transition from Fine Arts Photography to Street Photography and is also his most successful undertaking to date.

"The Philadelphia Project" documents the city during its most recent gentrification and urban renewal movement. Much of what was photographed is now long gone. The Philadelphia Project Book Series consists of 25 full bleed photos spanning 40 soft back 8.5" x 11" books in editions of 50. The series continues to sell out monthly and subscriptions conclude in March 2016.

The demand and success of The Philadelphia Project inspired Michael to start and complete new projects in New York City, Philadelphia's Chinatown and Old City Philadelphia. The "MONTH-DAY-YEAR" book series is 25 photographs taken in the course of one day.

It is these bodies of work and publications that are now in holding at a number of International collections including The Museum of Modern Art in New York City, New York; The Art Institute Of Chicago, IL; Avery Architectural and Fine Arts Library at Columbia University in New York, NY; The Library of the National Museum of Modern Art in Tokyo, Japan; The J. Paul Getty Museum in Los Angeles, California; and The Philadelphia Museum Of Art in Philadelphia, Pennsylvania.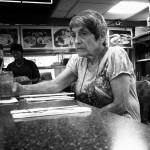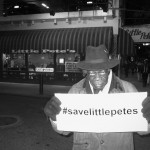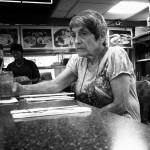 When Michael is not out taking photographs or printing and matting his work, he is promoting the Photographic Arts, visual artists, and other photographers through his various social media outlets. He is outspoken when it comes to cliques in the art world and how artists who need financial backing to survive while working on their projects are commonly looked over in favor of seasoned grant recipients and fellows.

He supports, advises, purchases and collects the works of other photographers and artists while raising awareness and funds for his local animal rescue, Philadelphia Paws.

Visit Michael's website and see more of his work by clicking here.