01/April/2016
Clintel Steed. Working and exhibiting New York City artist. This is no small feat, my friends, in the City that Never Sleeps. But what brought this artist all the way from Utah, via Chicago, to New York City with his easel tied to the top of his 1968 Cadillac? The Hustle. What brings everyone to New York City.
Clintel holds a BFA in Painting from the Art Institute of Chicago, an MFA from Indiana University and completed Advanced Studies at the New York Studio School of Drawing, Painting and Sculpture. You could say that he is quite the over-achiever. Clintel found representation with Mark Borghi Fine Art Gallery and is also a NARS Foundation Studio Artist. Clintel's studio is in the Sunset Park area of Brooklyn, one of the last vestiges of unadulterated New York art studio space. "The battle between good and evil, heaven and hell was preached all the time. This struggle is still within me, the lust for money and the battle for power."
Born in 1977 and raised in a devoutly Pentecostal Christian household in Utah, Clintel's childhood centered around the church. This devotion prominently figures in his work to this day as an exploration of moments, feelings, situations and experiences through art. "My work is about being alive really. I am an African American male who was born in 1977. When you look at the history and the time I was born, a lot of things were happening. It was not just the end of the hippie period and the beginning of the club phase - which I believe me and my generation were feeling the residue of - it was not just about the party."
In 2001, Clintel drove to New York City with his easel tied to the top of his car and settled in Harlem. Representation with Borghi Gallery has led to exhibitions throughout New York City, the Hamptons, Philadelphia. He won the John Koch award from the Academy of Arts and Letters in 2015. Clintel is an artist who represents the urgency and grit that was synonymous with New York City in the 1970's and 1980's. "Painting is being open to what's around you. But you are imagining, you are coming up with an idea, and you give in to ideas. It is always a push and pull. To me it's like the computers. It's the opportunity to make something epic. You ride the wave of the text until you get to the moment. The way we live life right now is that there is a lot of jumbling. Everything becomes fractured. Like how music now is different from what it was in the 1980s. Then, every song was five minutes. There was time to take a breath. Now they are all 2-3 minutes, and that seems long. But, I was reading this book about the sublime. The sublime is now. I think that everybody, when they are making a painting, is trying to be in the sublime: that moment when they are not thinking, but in the present."
Visit Clintel's site by
clicking here
.
01/March/2016
Michael Alvin Penn, 46, is the son of the late industrial artist and photographer, Alvin Penn.
He has lived in the "Art Gallery District" of Old City Philadelphia, Pennsylvania with his wife and their two adopted cats since 1994.
After his first solo photo exhibition at Silicon Gallery in Philadelphia, Michael launched his new career by shooting contemporary and classic architecture in and around Philadelphia. It was during this time, his Benjamin Franklin Bridge Portfolio was gaining National and Global recognition.
Since that first solo show, Michael has gone on to exhibit in nine group shows from Manhattan to Santiago Chile and his work was purchased for the permanent collections of The Wharton Business School in Philadelphia, PA and The Philadelphia Eagles Football Organization.
Michael's growing interest in the photography of W. Eugene Smith, William Klein, and Takuma Nakahira slightly altered his views about his own work. It was the 2009 lecture and meeting of Daido Moriyama that was the catalyst for a change in his photographic gears.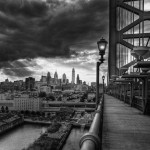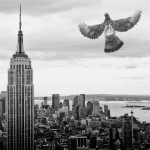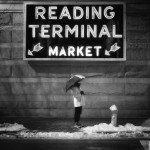 The shooting and archival printing of 1000 10" x 15" photographs shot over the course of three years, known as "The Philadelphia Project", allowed a smooth transition from Fine Arts Photography to Street Photography and is also his most successful undertaking to date.

"The Philadelphia Project" documents the city during its most recent gentrification and urban renewal movement. Much of what was photographed is now long gone. The Philadelphia Project Book Series consists of 25 full bleed photos spanning 40 soft back 8.5" x 11" books in editions of 50. The series continues to sell out monthly and subscriptions conclude in March 2016.

The demand and success of The Philadelphia Project inspired Michael to start and complete new projects in New York City, Philadelphia's Chinatown and Old City Philadelphia. The "MONTH-DAY-YEAR" book series is 25 photographs taken in the course of one day.

It is these bodies of work and publications that are now in holding at a number of International collections including The Museum of Modern Art in New York City, New York; The Art Institute Of Chicago, IL; Avery Architectural and Fine Arts Library at Columbia University in New York, NY; The Library of the National Museum of Modern Art in Tokyo, Japan; The J. Paul Getty Museum in Los Angeles, California; and The Philadelphia Museum Of Art in Philadelphia, Pennsylvania.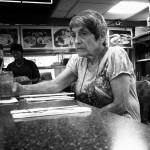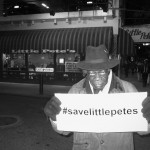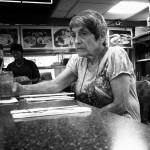 When Michael is not out taking photographs or printing and matting his work, he is promoting the Photographic Arts, visual artists, and other photographers through his various social media outlets. He is outspoken when it comes to cliques in the art world and how artists who need financial backing to survive while working on their projects are commonly looked over in favor of seasoned grant recipients and fellows.

He supports, advises, purchases and collects the works of other photographers and artists while raising awareness and funds for his local animal rescue, Philadelphia Paws.

Visit Michael's website and see more of his work by clicking here.
01/October/2015
Can you follow your passion? Can you live a life full of only what you hold dear? Is this possible? Well sure. Sort of. Let's talk about artists. Creators who produce work that is wholly about their passion. Artists who break barriers and cause us to stop and think. Artists who challenge the old guard and what has always been to create what will be. Often times, these artists are not fully appreciated in their own time. So, I ask you - Can you follow your passion or do you have to follow the money?

The idealistic me says that of course you can live a life following your passion. Staying true to what you believe. I do this everyday. The business of antiques and art is my passion. But I am not the creator, I am the dealer. In order for me to be in business there had to have been artists. And they are to whom we owe a great debt. The designers, artists and creators who dared to be themselves. To create for the love of passion.

Brazil in the early 20th Century, I am speaking of the larger more metropolitan cities, was largely influenced by the European and Portuguese tastes. The Colonial style, as it was often referred to, was the dominant taste. Furniture manufacturers employed artisans and craftsman with European training. They created beautiful examples of Louis style furniture in Jacaranda, with caning and other subtle changes that made the furniture perfect for the tropical Brazilian market. And Joaquim Tenreiro was part of this furniture style.

He was employed by one of the largest and most well respected manufacturers of the time. He was using his finely honed European skills to create gorgeous furniture in the European taste. But he was not satisfied. He was earning a living, yes. He was creating furniture, yes. He was following his passion, no. So he struck out and opened his own business. He dared to create a style of furniture that was light, full of grace, simplicity, line, form and function. It beckoned you to sit, to admire, to wonder.

His furniture designs all made use of the indigenous Brazilian woods that are known for not only their beauty, but their strength. And this was also the design behind Joaquim Tenreiro's creations. He met with great success. Opening shops, collaborating with well known architects of the day for their projects - Joaquim Tenreiro was following his passion and earning great respect and admiration. He was pioneering a movement. He was the trailblazer. He was not satisfied.

Sometime in the late 1960's, Tenreiro closed up his shops - retail and manufacturing. He no longer accepted commissions. He would not be making any more furniture. The man who had set a movement in motion and would come to be called the Father of the Brazilian Modernist Design Movement had given it all up. He gave himself over to his art, his painting.

Years pass by. The next wave of designers give Tenreiro much credit and accolades. His designs are touted as the inspiration for a generation of designers. Yet, he remains steadfast to his painting. He created his art, his paintings. But this was done without the same recognition and accolades and purchases that his furniture designs received. He was close to penniless in his later years.

In the end of his life, Tenreiro, the Father of a design movement, was creating birdhouses to pay for his daily living expenses. He died knowing that his furniture designs were important and appreciated, yet he never turned back to them. He stayed with his painting.

Now, maybe the jaded among us will scoff at his loyalty to his passion. But if there is no passion, there can be no art. There can be no design. There can be no creation. Only Joaquim Tenreiro knows the motivation for his choice and surely it is one that only an artist can understand. But, let us look at it another way. Had Mr. Tenreiro continued with his furniture design could he have painted? Could he follow the money and his passion?

Perhaps, yes. Had he continued to produce his furniture, he would have had the income to support his painting. But would his designs have been as inspired? I think the real answer is no. Mr. Tenreiro had no choice. He was an artist and had to follow his passion. And he did find a way to support himself and to continue to follow his passion. Maybe we, because of the nature of the antiques and art business, put too much emphasis on money. Should it be said that we follow the money and artists follow their passion?

And now to further complicate the issue, can there be art without money? If artists' work never reached the secondary market, how could they continue to produce. Surely there must be those willing to purchase the work? How else can art continue? Such a tangled web.

Mr. Tenreiro's furniture now sells for tens of thousands of dollars at both auction and for even more in retail galleries. Because he only produced for a relatively short period of time, his furniture pieces are more difficult to find. And this same rarity can be said of his paintings, but for another reason. Because they were not as much in demand, they did not come to the secondary market as frequently. Perhaps now too his art will receive the same attention from buyers as he had given it all those many years ago. Maybe the money will learn to follow the passion.